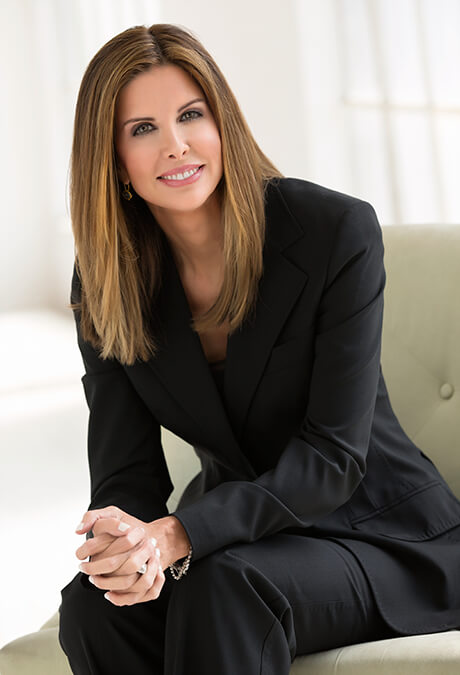 Stephanie Riggs is an award-winning, seasoned journalist possessing just about every prestigious award in television news. Her 20-plus year TV news anchor and feature reporting career garnered dozens of Emmys, awards and accolades – including a two-time winner of the coveted award for "Best Journalistic Enterprise". Stephanie also created her own one-hour television documentary "Fitting In" – airing on ABC Family in June of 2009. The program took a compassionate look at the nationwide epidemic of childhood obesity – following a group of children for one year as they learned how to lose weight and get heathy.
Her stories go far beyond informing and entertaining. They are life-changers for many – as evidenced by two reports for CBS Sunday Morning on two different African villages. One report featured a west African village supported by one of their own, who ventured to America to find work and sent nearly every penny back home. After his brutal murder by white supremacists in 1997, Stephanie reported on the man's efforts, his village and Colorado's reaction to his murder. Her reporting sparked a movement in Denver resulting in hundreds of thousands of dollars contributed to improve his village – including a fresh water system and much more. A non-profit organized nearly 20-years ago, as a result of her report, is still active today.
Her second CBS Sunday Morning report focused on a Colorado couple who made a commitment to care for orphans in remote eastern Africa 50 years ago. It's estimated that more than one million orphans are alive today because of their efforts. Stephanie's single report inspired people to send money resulting in another one-thousand orphans saved.
In her latest CBS Sunday Morning report, Riggs resurrected hidden history surrounding "WASPs" – Women Air Force Service Pilots – whose contribution to winning World World II was left out of our history books. Stephanie's story brought to light their achievements, including their recent award of the Congressional Gold Medal.
Correspondent for CBN News/700 Club (in 138 countries, with estimated yearly viewing of 360 million people)
Contributing Anchor to Denver Post TV
Contributor to CBS Sunday Morning, New York, NY
Contributor to Shine Magazine, Denver, CO
Daily Talk Show Host – Salem Broadcasting – KRKS 94.7 FM
Host for "Denver's Movers & Shakers" TV interview show – Vista TV Cable Network, Denver, CO
Writer, Producer & Host for "Fitting In" (original programming on childhood obesity) – ABC Family
Evening News Anchor & Reporter – KCNC-TV, Denver, CO
Evening News Anchor & Reporter – WKRC-TV, Cincinatti, OH
Weekend News Anchor & Reporter – KOVR-TV, Sacramento, CA
Noon & Early Evening News Anchor & Reporter – KSEE-TV, Fresno, CA
Morning News Anchor & Reporter – NTV, Kearney-Hastings-Grand Island, NE
National Emmy Award Nomination
2004
CBS News Sunday Morning
2003
Journalistic Enterprise
Writer-Documentary
Writer-Series
News-Series
Documentary-Current Issues
2002
News Anchor
News-Series
Writer-Series
Documentary-Current Issues
Program-Target Audience
2001
Documentary-Current Issues
News-Series
News Feature-24 Hours
2000
Documentary-Current Issues
Writer-Series
News-Series
1999
Documentary-Current Issues
News-Series
1998
Writer-Series
News Feature-24 Hours
1997
Journalistic Enterprise
News Feature
General News-24 Hours
1996
News Feature-24 Hours
1995
Extended News Coverage
1992
Reporting-General News
National Federation of Press Women
National Gracie Allen Awards
Colorado Broadcasters Association
Colorado Assoc. of Black Journalists
1996
National Russell L. Cecil Medical Journalism Award
1996
National Leukemia Society's Journalist of the Year
1991
California's Clair Burgener "Golden Rule" Award
1991
National Association for Retarded Citizen's Journalist of the Year
2005
Raised $10,000 for The American Heart Association by completing Kona Marathon in Hawaii
2003
Wrote best selling children's book, "Never Sell Yourself Short", donating profits to Little People of America to help fund adoptions
1995
Highest Individual Fundraiser for Leukemia Society Raised $10,000 for research by completing the London Marathon.
1993
Performed with The Northern Kentucky Symphony, Piano Accompaniment
1993
Highest Individual Fundraiser for Leukemia Society. Raised $8,000 for research by completing the New York City Marathon.
Pepperdine University, 3-year Graduate; Dean's List.
Heidelberg University, Germany
3-Year High School Graduate; National Honor Society.