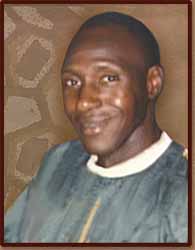 Oumar Dia

Two years ago a senseless murder at a downtown Denver bus stop shined the light on a man who inspired many in Colorado to embrace his people and his American dream and out of something tragic came something positive between a small village and our entire state.

Oumar Dia worked long hours at the downtown Denver Hyatt cleaning rooms and running luggage. He sent his paychecks back to his village to support his wife and three children.

But on November 18, 1997 a random act of violence in our city ended Dia's life. Nathan Thill and Jeremiah Barnum spotted Dia waiting for his ride home. Thill called Dia racist names, knocked off his cap then fired three bullets into his chest and neck. Thill also shot and paralyzed the woman who witnessed the murder Jeannie VanVelkenburg.

One seemingly random act of violence set off a chain of random acts of kindness. The more Colorado learned about this crime, the more we learned about this man, the smaller the world became.

Then something remarkable happened. People started sending money to Oumar Dia's former boss at the Hyatt. He set up the Oumar Dia memorial fund. $250,000 has helped Oumar Dia, in death, realize his life's dream.